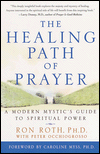 HEALING PATH OF PRAYER by Ron Roth ($13)
10.49
RH: 0-609-80266-7



Subtitled: A Modern Mystic's Guide to Spiritual Power

by Ron Roth and Peter Occhiogrosso

Spiritual healer and mystic Ron Roth teaches his unique method of prayer for connecting with inner and higher powers, and provides dramatic true stories of the healing it makes possible.

"Anyone interested in the spiritual side of life will benefit from this inspiring work." -- Larry Dossey, M.D., author of Prayer Is Good Medicine and Healing Words

With an appeal reminiscent of the best-selling books of Caroline Myss and Thomas Moore, Ron Roth's The Healing Path of Prayer is the only practical handbook to using prayer as a means of unlocking the healing powers of divine energy. Though based largely on Western, Judeo-Christian mystical traditions, Roth's multicultural, ecumenical approach incorporates elements from many other traditions.

The Healing Path of Prayer is rich with inspiring stories from Roth's 25 years as a spiritual healer and with useful advice on ways that anyone, regardless of religious orientation, can incorporate healing prayer rituals into daily life.

RON ROTH was a Catholic priest for more than 25 years and now teaches modern mysticism and healing through prayer to people of all faiths. He has appeared on Oprah and conducts seminars and workshops throughout the U.S. and Canada. He lives in Peru, Illinois.

PETER OCCHIOGROSSO, the author of several books on religion, lives in Woodstock, New York.