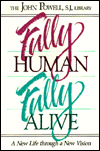 FULLY HUMAN, FULLY ALIVE by John Powell ($12.95)*
10.95
TM: 0-88347-321-6

Subtitled: A New Life Through a New Vision.

About the Book: In Fully Human, Fully Alive, best-selling author John Powell introduces his theory of "vision therapy," a simple yet effective system for successful personal growth. With his characteristic warmth and insight, Powell explains how our expectations, reactions, and emotions are determined by our "visions" or perceptions of ourselves, other people, life, and the world. He shows how negative responses are caused by unrealistic ideas and interpretations and suggests that in order to fully enjoy life, we must learn to identify and correct the distortions in our thinking. Powell offers helpful exercises and techniques for modifying our faulty perceptions, removing the barriers to happiness, and becoming "fully alive."

About the Author: John Powell, SJ., is a professor at Loyola University in Chicago. He is a popular lecturer, teacher, and best-selling author who effectively brings together psychology and religion in a unified approach to personal growth and spiritual development. His insights into personal relationships have been presented on television and in his many popular books.

John Powell's Best-sellers:
Why Am I Afraid to Tell You Who I Am? - over 3,135,000 in print;
The Secret of Staying in Love - over 1,500,000 in print;
Why Am I Afraid to Love? - over 1,500,000 in print;
Fully Human, Fully Alive - over 800,000 in print;
Touched By God - over 760,000 in print;
Unconditional Love - over 710,000 in print;
Reason to Live! Reason to Die! - over 400,000 in print;
Abortion: The Silent Holocaust - over 150,000 in print;
Will the Real Me Please Stand Up? - over 150,000 in print;
The Christian Vision - over 100,000 in print;
Through Seasons of the Heart - over 60,000 in print;
Happiness Is an Inside Job - over 50,000 in print; and,
Through the Eyes of Faith - over 10,000 in print.
For a special price on seven (7) of these titles including this one, please see the John Powell Library elsewhere on this page. Buy five (5) books and receive two (2) more free!

(Purchase of this title helps you qualify for free shipping within the continental US with a purchase of $25 or more as shown in your cart and excluding shipping and taxes.)