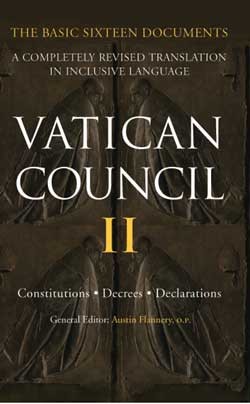 DOCUMENTS OF VATICAN II (BASIC 16 DOCUMENTS) by Austin Flannery, OP +
44.95
COS: 0-918344-37-9 (V-040)



(I apologize for the cost of these books but it appears that the US publisher has gone out of business and they must now be ordered from Ireland. So my cost includes fees for the conversion of dollars into euros (add 1/3), international transaction fees and high shipping costs. Even at this price, I don't make a normal discount. But we do have the books available, especially for this 50th anniversary year of the Council.)

This book was more than five years in the making and contains the original 16 documents of Vatican II. The text has been further revised and tested against the Latin original by Austin Flannery, O.P. The translation is in inclusive language which is in keeping with the meanings of the original text. Includes an extensive index. Perfect for start-up parish study groups and students when Vatican II is included in the religious curriculum. 610 pages.

This item does not qualify for free shipping. However, normal shipping applies and there is never a surcharge.