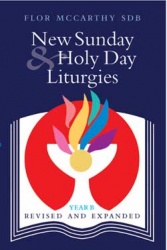 NEW SUNDAY AND HOLY DAY LITURGIES by Flor McCarthy +
49.95
COS: 1-871552-



(I apologize for the cost of these books but it appears that the US publisher has gone out of business and they must now be ordered from Ireland. So my cost includes fees for the conversion of dollars into euros (add 1/3), international transaction fees and high shipping costs. Years B and C are now in stock.)

"Fifteen years have passed since the original Sunday and Holy Day Liturgies came out. Since then I have done a lot of preaching, reflecting and reading. As a result I have accumulated a lot of new material. The new series gives me the opportunity to share this material with others.

"Now there are three homilies for each occasion, and sometimes additional material besides. The vast bulk of this material is new. Wherever old material is retained, I have tried to improve it. In general, the homilies are shorter and more focused than in the original series. And once again I rely heavily on stories.

"Every part of a liturgy should speak. For this reason I have put a lot of care into the Introduction to the Mass, the Headings for Readings, the Prayer of the Faithful, and the Reflection. The main thing here is to be brief and to the point. We must guard against turning the Mass into a series of mini-homilies.

"Even though I have worked and reworked these homilies, they are not put forward as the complete thing. They are put forward as approximations in the hope that someone else may take them up, develop them, refine them, improve them. In this way they can be kept alive. They are sentenced to death once they are judged definitive.

"The book contains one new feature. On most occasions I have added a brief Scripture Note which highlights the theme of the readings or the theological meaning of a particular feast. In compiling these notes I am indebted to the works of two Scripture scholars in particular, Wilfrid Harrington and Raymond Brown." - Flor McCarthy, S.D.B. (from the Introduction)

An excellent homiletic resource full of wonderful stories!

Available for Years B and C of the lectionary cycle.

This item does not qualify for free shipping. However, normal shipping applies and there is never a surcharge.