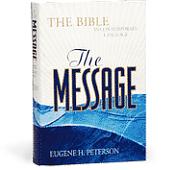 MESSAGE, THE (on CD-ROM with QuickVerse) by Eugene Petersen ($19.95)
17.95
PAR: 1-930594-84-4

Introducing The Message for QuickVerse. Here it is! The Message paraphrase of the Bible (all 66 books) in a single volume for QuickVerse!

From the mysterious Old Testament stories to the straightforward teachings of Jesus to the encouraging early-church letters, reading The Message will jump-start your heart, challenge your mind, and forever change your life.

The Message is a refreshingly unique Bible-reading experience. With no formal language, this Bible reads like a letter from an old friend. Because it's easier to understand, it's easier to make the connection between what you're reading and what it means for your everyday life.

What would happen if you received a letter from God? Would your heart pound? Would your mind race? Would your life change? With The Message, Eugene Peterson's best-selling paraphrase of the Bible, you can join the millions of readers who have experienced God's Word in the form of a personal message.

Enthusiasm for The Message has boosted its popularity as the most reader-friendly Bible available today. Every book of Scripture unfolds like a page-turner you can't put down! Passages you've read many times before will come alive, revealing the vibrant energy of God's Word!

Just look at what others are saying about this gracious and inspiring new Bible translation:

"Opening The Message is like reading the Bible with fresh eyes. Whether you've read the Scriptures through a hundred times or are just starting out, The Message is a wonderful tool for understanding God's Word!" - Bill McCartney, founder and president, Promise Keepers

"The Message is a powerful resource fore believers and seekers alike – it communicates the unchanging Word of God using language and Phrases that all of us can grasp. I highly recommend The Message to anyone who wants to make advances in their spiritual journey." -- Bill Hybels, senior pastor, Willow Creek Community Church

"...if the Bible were written today, it would read like The Message..." -- Leith Anderson, pastor, Wooddale Church, Eden Prairie, Minnesota

More than 10,000,000 readers have already discovered the clarity, simplicity, and power of The Message! And now it's complete (Old Testament and New Testament) in STEP format!

Now includes QuickVerse so that the program is stand-alone not an add-on.