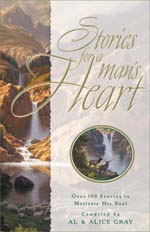 STORIES FOR A MAN'S HEART (Compiled by Alice Gray)+
12.95
MUL: 1-57673-479-X

Over 100 stories by authors such as: James Dobson, Billy Graham, Max Lucado, Dale Galloway, Brennan Manning, Luis Palau, Barbara Johnson, Zig Ziglar, Rabbi Harold Kushner, Philip Yancey, Tony Campolo and many more ordinary people on such topics as: Virtue, Love, Motivation, Encouragement, Fatherhood, Sports, Legacy and Faith. Compiled by Al and Alice Gray.

This item does not qualify for free shipping. However, normal shipping applies and there is never a surcharge.