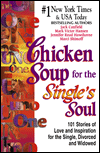 CHICKEN SOUP FOR THE SINGLE'S SOUL ($14.95)*
11.95 9.95 On Sale!
HCI: 1-55874-706-0



"Thank you for wonderful, real-life stories about finding love, blessings and new insights in the world of being single or single again." -- Dana Kressierer, president, Single Volunteers

Stories of Love and Insight for Singles and Singles-Again

(Purchase of this title helps you qualify for the free shipping option if it is being offered at the time of your order.)

Whether you love being single or you long to find your life partner, you'll find wisdom, laughter and inspiration in Chicken Soup for the Single's Soul. Written by and about other singles who are divorced, widowed, or have been single all of their lives, these stories relate the unique challenges and joys of enjoying life as a single person.

Whether you are filled with anticipation about a new relationship; worried about being both Mom and Dad to your children; reveling in a new-found career; or dealing with the loss of a special love, the stories in this book will show you that you're never alone. By sharing the experiences of other singles, you'll find humor to help you deal with difficult situations; faith to believe in yourself; and hope to see the best in others.

With chapters on Single and Happy, Dating, Finding Your Mate, Losing a Partner, and Single Parenting, this book speaks to every facet of single life with warmth, grace and insight. Chicken Soup for the Single's Soul is a perfect gift for anyone who is single or single again.

Jack Canfield and Mark Victor Hansen, the #1 New York Times and USA Today best-selling coauthors of the Chicken Soup for the Soul series, are professional speakers who have dedicated their lives to enhancing the personal and professional development of others.

Jennifer Read Hawthorne and Marci Shimoff are the coauthors of the #1 New York Times bestsellers Chicken Soup for the Woman's Soul and Chicken Soup for the Mother's Soul as well as A Second Chicken Soup for the Woman's Soul.