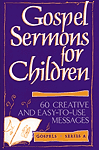 GOSPEL SERMONS FOR CHILDREN by Irene Getz *
12.95
AUGS: 0-8066-

Gospel Sermons for Children brings you sixty new children's sermons which the publishers hope will help both the leaders and the children understand the Gospel. The popularity of the three volumes published earlier (Augsburg Sermons for Children, one volume each for the Gospel texts for years A, B & C) led to this new series. We hope these continue to communicate God's love to God's children.

Having a children's sermon is not the only way to let children know they are included in the worship service, but it is a good way. During this special time, the stories and messages from the Gospels can be communicated to children in ways they can understand. We need to remind ourselves that children are full members of the household of faith. The fact that their concerns, interests, and levels of understanding are taken seriously through these children's sermons is an indication that they are taken seriously. Even though the messages use simple language and basic concepts, the Gospel comes through clearly.

The Gospel texts are taken primarily from the Revised Common Lectionary which is used in the worship services of a number of denominations. If there was a choice of readings for a Sunday, the ones designated as Lutheran were selected in most cases. Notice that for the Sundays in Pentecost, the word Proper and the appropriate number are given. Churches following a bee-text tradition may use the sermons whenever they meet their needs. In this volume, a children's sermon for Thanksgiving is included, using the suggested revised lectionary text.

The introductory material for each of the sermons provides helpful information for you as leader. After the name of the Sunday and the reference for the Gospel text, these follow:
Focus. A brief statement of the theme.
Experience. What you and the children will be doing.
Preparation. What needs to be done ahead of time.
Some of the children's sermons use objects or special arrangements. However, these sermons are not the traditional kind of object lessons that ask children to make symbolic connections between an object and a spiritual concept. Abstract, symbolic thinking is beyond most children's ability.

When an object or prop is part of a sermon, let the children hold it or help you with it. They will learn more from their own experience than from simply watching you. Asking a couple of children to help you lay out a paper road or use a tape measure helps them to feel needed and important.

These children's sermons emphasize grace more than law. That is not to say that there is no emphasis on how to live. That is there, but always in the context that we are already loved. As much as possible, these messages communicate how God shows grace through Jesus Christ; how God worked through the lives of people in Bible times, throughout the centuries, and today; and how much God loves each of the children.

Available for Year A and Year B only.

(Purchase of this title helps you qualify for free shipping with a purchase of $25 or more as shown in your cart and excluding shipping and taxes.)