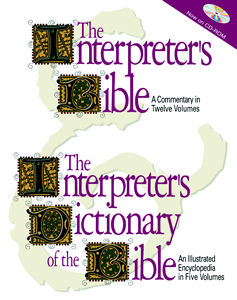 INTERPRETER'S 12 VOLUME BIBLE COMMENTARY and DICTIONARY (on CD-ROM)($765)
199.95 99.95 On Sale!
ABG: 0-687-08188-2

This CD-ROM is a full-text database containing the original 12 volumes of The Interpreter's Bible, as well as the five volume set of The Interpreter's Dictionary of the Bible, which is the equivalent of 16,500 pages of text. The list price of these volumes in print would have been $765! (You save almost 85%!! - Unbelievable!!!).

Key Features:
Contains the complete Bible commentary and dictionary for the most popular commentary of the twentieth century
Full text search and retrieval, compatible with The New Interpreter'sŪ Bible
Many user-defined interactive functions: highlighting, notes, group templates, and jump links
18 brief movie clips on Bible geography
Full-color maps
Contains the Revised Standard Version, the New Revised Standard Version, and the King James Version translations
Hundreds of photographs and illustrations
Key Benefits:
Allows user to search rapidly for passages, comments, definitions, and illustrations
Make notes or highlights on the text and store them
Cut and paste passages, photos, or illustrations into documents or research papers
Reduces research time for students, pastors, and teachers
A great price for a valuable and versatile resource! I use it myself and it's terrific!

This software will work on Windows 7 computers using the Windows Virtual Machine and XP Mode.