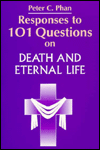 RESPONSES TO 101 QUESTIONS ON DEATH AND ETERNAL LIFE+
12.95
PP: 0-8091-3711-9

"IN DEATH, what happens to me? How can I prepare myself for death? Is cremation of the corpse permitted for Catholics? What happens to me immediately after I die? What are near- death experiences and what do they say about the afterlife? If someone does not die in 'mortal sin' but dies in 'venial sin,' what will happen to that person? Is purgatory a place and how long does a person have to be there? Is it true that heaven and hell are the only two options for us? How are we related to the Triune God in heaven? What is the difference between 'immortality of the soul' and 'resurrection of the dead'? How is Jesus' resurrection connected with our own resurrection? How do we rise? Do we rise as male and female? What are the signs by which we can discern the second coming of Christ? Who is the antichrist and what does he or she do? Will there be a general judgment? What should we make of the 'new heaven and new earth'?"

In this book theologian Peter Phan addresses some of the most frequently asked questions about death, dying, and the realities associated with them, such as purgatory, reincarnation, judgment, heaven, hell, and universal salvation. With his clear and insightful answers, the author brings a needed clarity and balance to a topic that has been subject to much confusion and wild speculation. The book brings together scripture, theories of interpretation, the lessons of the tradition, and current theology to help the reader form a correct and contemporary understanding of the issues regarding dying and the afterlife.

PETER C. PHAN is the Warren-Blanding Distinguished Professor of Religion and Culture in the Department of Religion and Religious Education at The Catholic University of America. His study of Karl Rahner's eschatology, Eternity in Time, won the Best Book Award from the College Theology Society in 1989.

This item does not qualify for free shipping. However, normal shipping applies and there is never a surcharge.