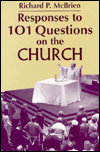 RESPONSES TO 101 QUESTIONS ON THE CHURCH by Richard McBrien ($14.95)+
12.95
PP: 0-8091-3638-4

"How do you define the Church? Is the Church necessary for salvation? Was Jesus the founder of the Church? What are we to make of Paul's negative statements about women in the Church? Why did the Greek and Russian Orthodox break away from the (Roman) Catholic Church? What does the Reign, or Kingdom, of God have to do with the Church? Is it possible to include non-Christian religions in the work of salvation? What does papal infallibility mean? What is the present state of the ecumenical movement? How do we reach the youth and bring them into the full and active life of the Church? Do you believe that the Holy Spirit is working in our Church today through the rising charismatic church? Do you ever feel discouraged about the Church and, if so, how do you cope and remain so hopeful?"

In this book well-known theologian, teacher, author, and columnist Richard McBrien offers a complete mini-course on the Church in a format and style readily accessible to the general reader. It includes basic questions about the definition, marks (one, holy, catholic, and apostolic), and composition of the Church (Roman Catholic, Eastern-rite Catholic, Orthodox, Anglican, Protestant, and Oriental). The author deftly deals with the historical movements and defining events related to the Church in the New Testament and across the centuries. Almost half of the 101 questions respond to issues facing the Church today, including lay ministry, priesthood, ecumenism, the role of women, social justice, authority, religious education, and the pastoral needs of the young, divorced people, and others who may feel marginalized. This is truly an insightful and hopeful book.

RICHARD P. MCBRIEN, a priest of the Archdiocese of Hartford, currently serves as the Crowley-O'Brien-Walter professor of theology at the University of Notre Dame. He is the author of Catholicism, published in 1980, completely revised and updated in 1994, and is general editor of HarperCollins Encyclopedia of Catholicism, published in 1995.

This item does not qualify for free shipping. However, normal shipping applies and there is never a surcharge.