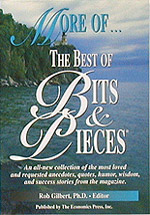 BEST OF BITS AND PIECES, Volume 2 +
29.95

More of the best stories, quotes and illustrations from Bits and Pieces magazine now available in a hardcover edition. A great resource for your illustration library!

More of The Best of BITS & PIECES

One of the Most Inspired --and Inspiring Books You'll Ever Read!

Here it is! The second collection of the most-loved and requested anecdotes, touches of humor, nuggets of wisdom, success stories, little essays, and quotes from the popular Economics Press publication, BITS & PIECES.

More of The Best of BITS & PIECES gathers hundreds upon hundreds of BITS & PIECES classics--AND MORE--in one hardbound volume. With its quick-scan arrangement by topic and its easy-to-use index, The Best ofB1TS & PIECES puts at your fingertips the kind of down-to-earth, friendly writing millions of readers around the world have come to expect from "the most powerful little magazine in business today." And all the bits and pieces of inspiration you'll find inside are united by the idea of people getting along with people.

Use this valuable resource to
communicate more meaningfully
make speech-making a snap
add power to presentations
give letters the human touch
or simply to brighten your day!
The minute you begin reading you'll find More of The Best of BITS & PIECES highlights and celebrates all the positive qualities you hold dear: the will to win, to transcend the usual, to understand the unusual, to search for excellence, to seek truth and beauty, to achieve, to grow, to live by the Golden Rule.

Finding the inspiration you need is easy:
Every item is conveniently categorized. Find the category you want simply by thumbing through the alphabetized headings; or
Check the table of contents for a complete listing of categories and authors; or
Look in the completely cross-referenced index for similar topics.
But be warned! Once you start to browse through its pages, you'll find it hard to put down. You'll find the Best of Bits and Pieces motivating, amusing, eye-opening and spirit-soothing. You'll find yourself keeping it at your fingertips and referring to it often.

"For years, readers of Bits & Pieces have been asking that we publish a collection of the little essays, anecdotes, jokes, proverbs, and one-liners that appear every four weeks in our pocket-size magazine. The requests have come from all over the world. That's because we mail Bits & Pieces to readers in more than 100 countries.

"How many readers? We don't know. We do know that circulation is more than 250,000, and that most of these subscribers pass their copies along to others. We would be willing to bet that readership is well over 1,000,000. When we say that Bits & Pieces gets passed around, one exception comes to mind. We met a retired corporate executive in Florida recently who said he had always kept his large collection of Bits & Pieces issues locked in his desk so that associates wouldn't know the source of the illustrative stories he used in his speeches.

"It would have been simple to take this loyal but selfish fellow's collection and put it in book form, but we felt that a representative selection would be more manageable and meaningful. It proved to be a hard task.

"From the beginning, Bits & Pieces has been aimed at executives, managers, and supervisors in the business world. Advice on how to deal with people in the workplace has been its mainstay. But through the years the magazine has developed a broader appeal with bits of advice about getting along with people outside the workplace and within the family. Gentle humor has broadened the magazine's appeal even more. Humor has also served to make the advice more palatable. But perhaps the best reason for this little magazine's popularity can be found in a comment that we frequently get from readers: 'Bits & Pieces gives me a lift.'

"Actually, the title of this book should be The Best of Bits & Pieces Plus. The 'plus' represents the fact that some of the material that follows is from Bits & Pieces' younger companion publication, Leadership. Leadership was first published nearly 10 years ago in response to readers of Bits & Pieces who wanted more of what they had come to like in the latter. The two publications are virtual clones that are mailed two weeks apart.

"To produce these two little magazines, we have picked flowers from many gardens (thank you Mark Twain, Benjamin Franklin, Abraham Lincoln, and others). But we have also cultivated our own sources.

"We have tried to do so with an economy of words--the way Count Basie produced great piano music by hitting an economy of notes. And, although we may never achieve it, our goal has always been to write prose the way Robert Frost wrote poetry--beginning in delight and ending in wisdom.

This book is the result. While we present it as "the best" of our efforts, we're well aware that some of our readers may have other ideas. If you have a favorite essay, story, proverb, or bit of humor that you remember reading in Bits & Pieces that you feel belongs here, drop us a line and let us know. It might lead to More of the Best of Bits & Pieces." - from the preface.

A set of the three "Best of Bits and Pieces" is also available at the special price of $79.95!!

This item does not qualify for free shipping. However, normal shipping applies and there is never a surcharge.