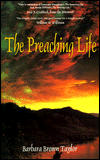 PREACHING LIFE, THE by Barbara Brown Taylor ($10.95)*
8.49
COW: 1-56101-074-X


Barbara Brown Taylor is an Episcopal priest and former rector of Grace-Calvary Episcopal Church in Clarkesville, Georgia. She currently holds the Harry R. Butman Chair in Religion and Philosophy at Piedmont College in Demorest, Georgia. A popular preacher, speaker, and workshop leader, she was recently noted in Newsweek as one of the twelve most effective preachers in the English language.
---
In her bestselling preaching autobiography Barbara Brown Taylor writes of how she came to be a preacher of the gospel as a priest in the Episcopal Church. Includes thirteen sermons.
"Because I am a preacher, it is through a preacher's eyes that I see..., but because I am a baptized Christian too, it is from that perspective I write. Either way, my job remains the same: to proclaim the good news of God in Christ and to celebrate the sacraments of God's presence in the world. Those two jobs are described as clearly in the baptismal vows as they are in the ordination vows, which give all Christians a common vocation." —from Chapter One
"Barbara Brown Taylor tells an engaging story of the birth of her own voice as a preacher, the struggles to bring the gospel to speech, and the joys of being an instrument of God's will." —William H. Willimon
---
Reviewed in The Presbyterian Outlook (February 14, 1994) by Thomas G. Long, Princeton Theological Seminary
It is easy for those of us who preach to slip into thinking of preaching as a task, a chore, even a weekly homework assignment …. Taylor, as a parish priest, is fully aware of the incessant demands of the pulpit. But to her mind, preaching is not just a duty; it is also a ceaseless delight. …Her use of language is enchanting; her prose is luxuriant. Images spin across the pages like ballerinas. …Taylor has the rare combination of a sturdy theological mind and a receptive, almost wide-eyed, openness to experience. …
In sum, this is a book about the life of a preacher, but more than that it is about being fully alive in the Christian faith. Barbara Brown Taylor is, to use her own words, "a detective of divinity, collecting evidence of God's genius and admiring the tracks left for me to follow …." I am grateful that she is on the case.
---
Reviewed in Monday Morning (October 4, 1993) by Donald Macleod, Professor Emeritus, Princeton Theological Seminary
For any preacher who feels the slightest tilt of burnout or a growing lack of real answers to the question "why," Barbara Brown Taylor has a first-rate monograph, The Preaching Life …. These pages are a convincing testimony to her own "belief in the power of the Word that has kept her engine running." Thirteen sermons are included. They are gems.
---
Reviewed in Anglican Theological Review, 75:4 (1993) by O.C. Edwards, Jr., Seabury-Western Theological Seminary
The decision of the Episcopal Church in 1976 to ordain women to the priesthood and episcopate has brought us many blessings, not the least of which is the improvement in preaching. Probably no other woman has contributed as much to that improvement as Barbara Brown Taylor. Nor is it likely that another has received so much recognition for her contribution. …I am convinced that whoever reads the book will marvel at it, take pleasure in it, and be lured beyond their present stage of progress by it. …
In his essay on Anglican spirituality in The Study of Anglicanism, A.M. Allchin pointed out the close connection between our spiritual writings and the creation of great literature. This he attributes to a sense of the presence of God in all things and all people. Taylor's work has that quality. While all of us cannot expect to preach as well as she, reading her work can alert us to looking for what she sees and can also show us how she enables us to see it too and to show it to others. At the very least, we can quote some of her phrases and help them to continue doing their marvelous work.
(Purchase of this title helps you qualify for the free shipping option if it is being offered at the time of your order.)