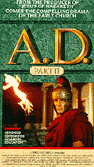 A.D. (video)($69.95)
59.95
GOSPELFILMS

A. D. is a $30 million production which was filmed on location in Tunisia, Pompeii, Herculeneum and Rome. Six hours of video on three video tapes which are divided into 12 study sessions. Includes Study Guide. Ideal for use during the Easter season along with the Acts of the Apostles.

Stars Anthony Andrews, Colleen Dewhurst, Ava Gardner, David Hedison, John Houseman, Richard Kiley, James Mason, John McEnery, Ian McShane, Jennifer O'Neill, Millie Perkins, Denis Quilley, Fernando Rey, Richard Roundtree, Susan Sarandon, Ben Vereen, Tony Vogel, Jack Warden and Anthony Zerbe.

Available in either three videos or the full five video set ($79.95, $99.99). The study guide is not included in the full set. Please indicate your preference when ordering. If ordering the full set, the price will be adjusted upon receipt of your order but will not be reflected on your program-generated receipt.