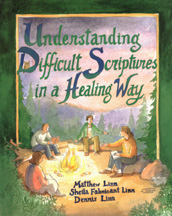 UNDERSTANDING DIFFICULT SCRIPTURES IN A HEALING WAY by Matthew, Sheila and Dennis Linn ($12.95)
9.95
PP: 0-8091-4029-2

Since loving connection is the central theme of the Bible, reading any scripture passage should help us feel closer to God, ourselves, others and the universe. Yet, "difficult scriptures"--those that seem to present an unloving, frightening or narrow image of God--can reinforce patterns of fear and shame and make it more difficult to take in healing love. However, when such passages are properly contextualized and interpreted, they often turn out to be surprisingly good news. This book, grounded in contemporary scholarship, gives examples of some wonderful surprises. It also suggests simple ways of interpreting any passage that helps us find the essence of the scriptures: a consistently loving, healing and salvific God.

Reviews:

"The scriptures are the best book in the world, and maybe also the worst. They are the worst when they are used for bullying and self-satisfaction, and the best when used for healing of the world and transformation of the self. Obviously God intended the second and, as usual, the Linns are backing God up. Read and be transformed." —Richard Rohr, O.F.M. Center for Action and Contemplation Albuquerque, New Mexico

"This is another fine example of the wisdom and sensitivity so many have found in the healing ministries of the Linns. Here they bring an enormous wealth of pastoral experience to bear on meeting the God of our salvation in the Bible in a truly saving way, especially in those passages that can at first confuse and even threaten us. Highly recommended!" —John R. Sachs, S.J. Weston Jesuit School of Theology Cambridge, Massachusetts

"This is a clear and disarming exposition of the gospel-as-lived. It takes up where most biblical scholarship leaves off.…" —Jerome Neyrey, S.J. Professor of New Testament University of Notre Dame

"With their usual incisiveness and clarity, the Linns have once again struck one of the great chords of Christian faith. The simplest of us can understand them, the wisest of us can learn from them." —Walter Wink Professor of Biblical Interpretation Auburn Theological Seminary

About the Author

Dennis, Sheila, and Matt Linn work as a team integrating physical, emotional and spiritual wholeness, currently through leading retreats and spiritual companioning. They have taught courses on processes for healing in over forty countries and in many universities and hospitals. With total sales over a million copies, their seventeen books include Healing Life's Hurts (0-8091-2059-3) and Good Goats (0-8091-3463-2). Dennis and Sheila live in Colorado with their son John, and Matt lives in a Jesuit community in Minnesota.