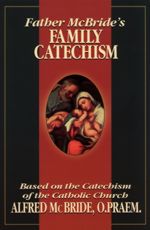 FAMILY CATECHISM by Alfred McBride ($10)
8.49
OSV: 0-87973-930-4

Bringing the Catechism Home

"I hope that you will use this book to help you make a lifetime study of the full Catechism of the Catholic Church. My book is simply a means to an end, not just for study, but for living the faith of the Church." - Introduction, Family Catechism

Pope John Paul II declared the new Catechism of the Catholic Church to be "a sure norm of faith." At the same time, he urged that the Catechism be used as the basis for preparing more specific and specialized catechisms.

Alfred McBride has taken up the Pope's challenge with his Family Catechism. Following the structure of the official Catechism, this new look at timeless teachings is intended to help families apply the wisdom of the Catechism in their everyday lives.

Each section begins with reference numbers to the Catechism itself and an entertaining yet thought-provoking opening story, followed by a Catechism reflection, an application of the teaching to Catholic family life, a family prayer, and finally, a glossary of terms.

An ideal way to stimulate the reading of the Catechism, enhance family prayer, and deal with ethical and moral situations, the Family Catechism helps parents provide a solid religious education for their children.

About the Author: Alfred McBride, 0. Praem., is the author of the best-selling Essentials of the Faith and Teen Catechism, as well as commentaries on the four Gospels, the Acts of the Apostles, and the Book of Revelation.