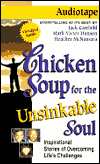 CHICKEN SOUP FOR THE UNSINKABLE SOUL AUDIO ($11.95)
9.95
HCI: 1-55874701-X

Subtitled: Inspirational Stories of Overcoming Life's Challenges

This inspiring and uplifting audio offers encouragement for anyone who is confronting challenging times, whether dealing with an emotional loss, battling an illness or disease, or experiencing the ups and downs of pursuing a lifelong dream.

Each story shows how other people have triumphed in the face of overwhelming odds and demonstratest that no matter how difficult a situation, others have lived through it and have emerged with a renewed strength and an appreciation for life, themselves and others.

A timeless testament to the resiliency of the human spirit, this collection is sure to encourage, support, comfort and, most of all, give listeners the strength they need to persevere and achieve their dreams.