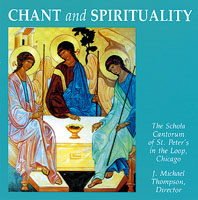 CHANT AND SPIRITUALITY ($16.95)
14.95
LP: 0-8146-7914-5

The Schola Cantorum of St. Peter's in the Loop; J. Michael Thompson, Director
Performed live-and to much acclaim-at the 1995 National Association of Pastoral Musicians convention, Chant and Spirituality celebrates the cycles of time and seasons-diurnal, annual, liturgical, and eternal. The rich and varied chant traditions presented include Gregorian, Byzantine, Ambrosian, Anglican, Finnish, Old Roman, Dominican, Carpatho-Rusyn, and Kievan.

Selections are:

Kyrie from Gregorian Mass IX


Phos Hilaron


Quoniam tu illminans


Psalm 143, Ecce nunc benedicite Dominum


Jam lucis orto sidere, office hymn at Prime


Rorate coeli desuper, medieval Advent prose


O Rex Gentium, antiphon on Magnificat, Dec. 23
O House of Ephratha, Vespers of the forefeast of Christmas chant of the Valaam Monastery, Finland, in Mode II


Chants for the Baptism of the Lord; Irmos VII, the Great Canon of Saint Andrew of Crete


Parce Domine, medieval Lenten refrain


Pueri hebraeorum, from the Procession of Palms


Behold the Bridegroom Comes, troparion of Bridegroom Matins


Ubi caritas et amor, preparation chant, Holy Thursday


Lesson I portion, Matins of Holy Thursday


The Paschal Proclamation (Exsultet)


O Heavenly King, hymn to the Holy Spirit


Te Deum Laudaumus
Rejoicing in all the cycles of life, from the prayer of morning and evening, to the great Easter Vigil Exsultet, to a song of praise for the eternal nature of God, Chant and Spiritualitygloriously celebrates the timeless power of chant as an expression of spirituality.

J. Michael Thompson is the director of music ministry at St. Peter's Church, where he is the founder and director of the Schola Cantorum. He has been a pastoral musician and liturgist for twenty years, as well as a composer, author, and a noted promoter of the Liturgy of the Hours and Gregorian chant in contemporary parish situations.

Available on cassette [$12.95 (list: $14.95)] or compact disc. Please specify your preference when ordering. If ordering the cassette, the price will be adjusted when we receive your order but will not be reflected on your program-generated receipt.