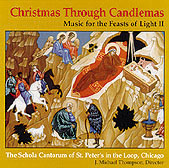 CHRISTMAS THROUGH CANDLEMAS ($16.95)
14.95
LP: 0-8146-7929-3

Music for the Feasts of Light II
Schola Cantorum of St. Peter's-in-the-Loop Church, Chicago; J. Michael Thompson, Director
Christmas Through Candlemas shines with the brightness of the Christmas star. Continuing the practice of creating recordings that present the liturgical music of both the Eastern and Western Churches, the Schola Cantorum of St. Peter's-in-the- Loop has woven music from both traditions into a celebration of the Savior's birth. A collection of chant, carols, and anthems, Christmas Through Candlemas contains music for four feasts: Christmas, Epiphany, Baptism of the Lord, and Presentation of the Lord. Recordings include Gregorian chant, Carpatho-Rusyn plainchant, the polyphony of the Renaissance, Ukranian and western carols, and newly composed settings by contemporary American composers using ancient Byzantine texts in English.

Selections for Christmas/Nativity of the Lord are:


Gloria in excelsis Deo


Benedictus Antiphon, Christmas Lauds


Hodie de coelo descendit


Responsory, Christmas Matins


La Virgen Miraba (arr. E. Gogolak) Deward Rahm, organ; Edward Gogolak, percussion; Paul Nicholson, conductor


You Are the Light (J. Clemens)


Second sticheron at Ps. 140, Vespers of December 22


Heaven and Earth are United Today


Second sticheron, Litja, Nativity Compline Tone I Bolhar


Deva Ones (A. Kastalsky)


Nativity Matins, Kondak


Nyni Adame (Ukrainian carol)



Selections for Epiphany/Nativity of the Lord are:


Antiphona in choro, Epiphany Vespers


Ambrosian Rite


Tribus Miracluis (L. Marenzio)


Magnificat Antiphon, Epiphany Vespers


Saw You Never in the Twilight (arr. Paul Nicholson) Deward Rahm, organ; Dawn Marie Hirsch, flute; Robert Rieder, flugelhorn; Eric Miranda, percussion; Paul Nicholson, conductor


You Have Shone Forth (R. Hillert)


Responsorial Troparion, Vesper Liturgy of Nativity


The Magi, Kings of Persia
Doxastikon, Litija, Nativity Compline
Rozhdestvo Tvoje (A. Kastalsky)
Nativity Compline, Troparion
Vselennaja, veselysja (Ukrainian carol)
Selections for Baptism of the Lord/Theophany are:

Fontes aquarum
Magnificat Antiphon, Second Vespers, Octave of the Epiphany (Dominican)
Baptizat miles Regem (G. Gillispie)
Magnificat Antiphon, First Vespers, Octave of the Epiphany (Dominican)
When John Baptized at Jordan River (Rendez a Dieu) Robert Rieder, flugelhorn; Paul Nicholson, conductor
The One Who Clothes Himself With Light (B. Welland)
First sticheron, Litja, Theophany Compline; Paul Nicholson, conductor
He Whom You Have Called, O Lord
Fourth Irmos, Canon, Theophany Matins (Tone II samopodoben)
Troparion of the Theophany, Monks of New Skete
Vonmy Nebo (Ukrainian carol) Charles Blandy, soloist
Selections for Presentation/Encounter are:

Ecce venit ad templum (A. Praem. p. 462)
Invitatory Antiphon, Presentation Matins
Hodie beata Maria virgo (L. Marenzio)
Magnificat Antiphon, Presentation Vespers
Ave, Mary! (Dominicans of Summit, arr. J. Clemens) Deward Rahm, organ; Alicia Tate, oboe; Paul Nicholson, conductor
O Faithful, Come, Let Us Worship (P. Nicholson)
Seventh sticheron at Ps. 140, Encounter Vespers; Paul Nicholson, conductor
O God-bearing Virgin/We, the Faithful . . .
Zadostojnyk, Divine Liturgy of Encounter (Tone III samopodoben)
Nine Otpushchaeshi (G. Stepanov)
Hymn, Byzantine Vespers
J. Michael Thompson is the director of music ministry at St. Peter's Church, where he is the founder and director of the Schola Cantorum. He has been a pastoral musician and liturgist for twenty years, as well as a composer, author, and a noted promoter of the Liturgy of the Hours and Gregorian chant in contemporary parish situations.
Available on CD or Cassette [$11.95 (list: $14.95)]. Please indicate your preference when ordering. If ordering the cassette, the price will be adjusted upon receipt of your order but will not be reflected on your program generated receipt.