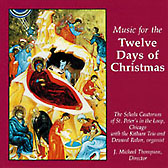 12 DAYS OF CHRISTMAS, MUSIC FOR THE ($16.95)
13.95
LP: 0-8146-7902-1

The Schola Cantorum of St. Peter's in the Loop; J. Michael Thompson, Director
Music for the Twelve Days of Christmas continues the celebration of the Christmas season by rejoicing in the birth of the Savior. Many of the chant selections are assigned to a specific feast in the twelve days of Christmas (from December 25 through the Epiphany); others are "liturgical folk chant," used in processions or as devotions at the Creche. The recording also includes thirteen carols from Ireland, Poland, Slavonia, Ukraine, Sri Lanka, Malawi, and the United States that are little known outside of these regions. Most of these carols are presented in new arrangements that reflect their ethnic and folk origins. All the selections, in their varied ways, give thanks and praise to God for that greatest of gifts: Jesus, "God with us."

Selections are


Christmas Day Is Come!
Hodie Christus Natus Est
Cold Is the Edge of the Night Wind
Tu principatum tenes
He Came with His Love
Right Worthy of Honor
On This Day, Let's Sing All Together
Innocentes pro Christo
Ye Sons of Men, With Me Rejoice
Verbum caro factum est
The Darkest Midnight in December
Dum medium silentium
Now Is the Old Year Passed Away
O admirabile commercium
Mary Looks Upon Her Child
Magnum haereditatis mysterium
Dost Thou in a Manger Lie?
Ecce nomen Domini
Heaven's Dawn Is Breaking Brightly
Puer natus in Bethlehem
That Boy-Child of Mary
O beata infantia
Good People All, This Christmastime
Magi videntes stellam
Kings So Fair
Glorious
J. Michael Thompson is the director of music ministry at St. Peter's Church, where he is the founder and director of the Schola Cantorum. He has been a pastoral musician and liturgist for twenty years, as well as a composer, author, and a noted promoter of the Liturgy of the Hours and Gregorian chant in contemporary parish situations.