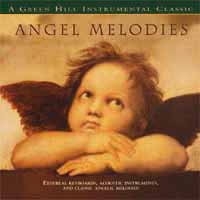 ANGEL MELODIES from Greenhill Music
15.95

Delicate melodies and heavenly instrumentation are highlighted as the fourth recording in the popular Angel Music Series puts an ethereal spin on angelic melodies from Andrew Lloyd Webber, Tchaikovsky, Jim Brickman, and Eric Clapton. Ethereal Keyboards, Violin, Piano, Harp, Flute, and other Acoustic Instruments. Approximate running time: 42:00 minutes

Includes:
Angel Eyes
The Wind Beneath My Wings
Dance Of The Sugarplum Fairy
The Music Of The Night
Guardian Angels
Etude (Opus 10, No.3)
Over the Rainbow
Tears In Heaven
Out of the Blue
Waltz (Opus 39, No.15)
Liebestraum (Dream of Love)
Available on compact disc or cassette [$9.95 (list: $10.95)]. If ordering the cassette, the price will be adjusted upon receipt of your order but will not be reflected on your program-generated receipt.