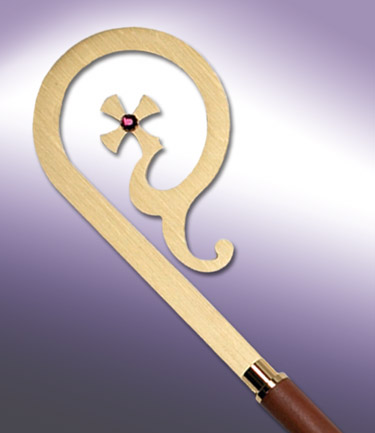 BISHOP'S CROZIER (from Murphy)(with free shipping)
792.90 734.95 On Sale!
MUR: 15017 or 15018

These magnificent Croziers are ready to ship the next day following our receipt of your order, and are backed by the Murphy Qwick-Ship Guarantee of Satisfaction. Features include:
Satin Brass (shown left) or Stainless Steel (15018) finish crook with mounted amethyst-tinted jewel cut stone;
Staff has bright brass finish with walnut insert (shown left) or bright stainless steel finish with black insert [$829.95 (list: $892.90)](#15018);
72" overall length; and,
Breaks down into 3 pieces for travel.
See Carrying Case 15019 designed just for this crozier. If ordering the Stainless Steel Crozier (15018), the price will be adjusted upon receipt of your order but will not be reflected on your program generated receipt.

Free ground shipping offer applies only to orders shipped within the continental US.