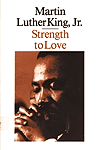 STRENGTH TO LOVE by Martin Luther King, Jr. ($16)
13.49
AUGS: 0-8006-1441-0

The classic collection of sermons preached by Martin Luther King, Jr.

"If there is one book Martin Luther King, Jr. has written that people consistently tell me has changed their lives, it is Strength to Love. I believe it is because this book best explains the central element of Martin Luther King, Jr.'s philosophy of nonviolence: His belief in a divine, loving presence that binds all life. This belief was the force behind all of my husband's quests to eliminate social evil . . . By reaching into and beyond ourselves and tapping the transcendent moral ethic of love, we shall overcome these evils. Love, truth, and the courage to do what is right should be our own guideposts on this lifelong journey. Martin Luther King, Jr. showed us the way; he showed us the Dream -- and we responded with full hearts. Martin was an optimist. I am too. I do believe that one day our strength to love shall bring the Dream to fruition and the Beloved Community to earth." -- From the foreword by Coretta Scott King

About the Author: Martin Luther King, Jr. was President of the Southern Christian Leadership Conference and co-pastor of Ebenezer Baptist Church, Atlanta, Georgia. He led the dramatic 'walk for freedom' in Montgomery, which resulted in bus desegregation, and was active in the Albany movement. He was Time magazine's Man of the Year for 1963 and received the Nobel Peace Prize in 1964. Dr. King was assassinated on April 4, 1968 in Memphis, Tennessee.