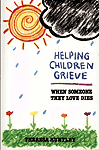 HELPING CHILDREN GRIEVE by Theresa Huntley ($12.99)*
10.95 9.95 On Sale!
AUGS: 0-8066-2549-X



Children are bewildered and full of questions when a grandparent, friend, or someone they love dies. We want to help, and yet the needs of a five-year-old are very different from those of an older child. Theresa Huntley shows how children at various ages understand death and offers positive ways for parents and other caring adults to help them grieve.

This book will help you listen to children, answer their questions, and guide them in coping with their feelings. Also included are helps for dealing with the behavior changes that often accompany a child's grief.
Table of Contents
Introduction

1 -- How Infants and Preschoolers Understand Death
2 -- How School-age Children Understand Death
3 -- How to Talk to Children about Death
4 -- Common Behaviors of Grieving Children
5 -- Tasks of Grieving
6 -- How to Help Grieving Children
7 -- Death Education
8 -- When a Child Is Dying
9 -- Concerns of Dying Children and Their Parents
10 - Providing Care for Dying Children

Conclusion

A Tribute to Molly



About the Author: Theresa Huntley is a prenatal counselor at the Minneapolis Seton Center. Previously she worked for two hospitals as a registered nurse in a pediatrics unit and as a children's loss and grief specialist. She also has completed graduate research on helping children grieve.

(Purchase of this title helps you qualify for the free shipping option if it is being offered at the time of your order.)