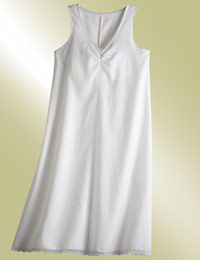 CHEMISE SLIP H-176
39.95 36.95 On Sale!
MUR: H176

Look no further for a full length slip that requires minimal care and reduces show-through in white or light colored dresses or ensembles. Ships within 24 hours of our receipt of your order, and it is backed by the Qwick-Ship Guarantee of Satisfaction.


Modestly tailored in white machine washable polyester Pongee

Delicately edged at the armholes and neckline with Contessa® fabric

Lace hem

Stocked in 20 sizes to fit most women. To find your size, see the Women's H Size Chart.