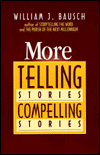 MORE TELLING STORIES, COMPELLING STORIES by William Bausch +
12.95

33 lectionary-based homilies which include illustrations. Also includes one wedding homily and two for funerals. By William J. Bausch. 200 pp. Excellent resource.

This item does not qualify for free shipping. However, normal shipping applies and there is never a surcharge.