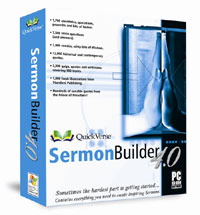 SERMON BUILDER 4.0 ($69.95)
59.95 49.95 On Sale!
PARS:



SermonBuilder 4.0 includes everything you need to create punctuated sermons, comprehensive lessons, and in-depth Bible studies. It gives you access to any verse, word, or topic in the Bible and over 50,000 related articles. Just imagine what you could do with these:
| | | | |
| --- | --- | --- | --- |
| | Contemporary Illustrations | | Thought-provoking Wisdom |
| | Over 12,000 Quotes | | Modern day Proverbs |
| | Statistics | | Humorous Tid-bits |
| | Witty Thoughts | | Anecdotes |
| | Concise Maxims | | Inspirational Thoughts |
| | Bible Trivia | | Topical Resources |
SermonBuilder 4.0 is the only resource for illustrations you may ever need!


Create Your Own Collection of Illustrations
| | |
| --- | --- |
| With SermonBuilder 4.0 you can create your own book of illustrations. Now you can put your existing paper files into an electronic library! Each personal book you create in SermonBuilder 4.0 is built on a topical structure from A to Z. Add your own topics. Fill each topic with text, links to images, hyperlinks to websites, and even cross-reference links to Bible passages! [screen] | |
SermonBuilder 4.0 includes the QuickVerse 2005 search engine ... which means your data access is built on the best standards in the industry. Hyper-links and cross-references are included within the text of each book. With a click of a mouse you have instant access to notes, bookmarks, highlights, and over 100,000 inter-connecting Scripture and topic hyperlinks!


The content in SermonBuilder 4.0 is modern and up-to-date. Some of the titles included are:
| | | | |
| --- | --- | --- | --- |
| | Today's Best Illustrations Volumes 1-5 | | Draper's Book of Quotations for the Christian World |
| | Phillips' Book of Great Thoughts and Funny Sayings | | The Complete Book of Zingers, Practical Proverbs and Wacky Wit |
| | The Complete Books of Bible Trivia and American Trivia | | 1,000 Windows |
| | Illustrations Unlimited | | The Quotable Spurgeon |
| |   | |   |
| | Descriptions and Sample Quotes | |   |
SermonBuilder 4.0
[screen] is fully integrated with the QuickVerse 2005 engine. You can use it as a stand-alone product, or expand your resources by adding any of our QuickVerse Collection products. Either way, you have access to these powerful features found only in QuickVerse 2005:
Search the Words of Jesus [screen] - This unique feature allows you to search only the words and phrases spoken by Jesus.
Segmented Reading Plans [screen] - Now save and apply up to 4 Bible segments in any daily reading plan. You can customize your daily reading plans to fit your needs!
Passage E-mails - Email passages to your friends or congregation directly from QuickVerse!
Window Processing - Now save tabbed and paned windows together in one session, all fully linked - the ultimate in textual viewing flexibility!
Parallel Gospels [screen] - Show over 100 passage similarities in Matthew, Mark, Luke and John.
Full Office Smart Tag Support - Immediately locate and import your favorite passage from any Bible or reference work without leaving your favorite Microsoft Office application. Perform powerful QuickVerse searches through your default Bible, topical, or dictionary! Instantly review and insert search results directly into your office document!
User Book Categories [screen] - Re-arrange your library! Add and change book categories and move books to your favorite categories!
1000 Additional Photos [screen] - View the Holy Land in brilliant high-resolution color photos! Each is fully captioned and indexed. Now over 2000 total photos!
50 high-resolution maps [screen] that are easily printed and copied for viewing. Each is fully captioned and indexed!
Parallel Verse View - lets you view any group of verses in several translations at once, in the same window! No more switching between windows or trying to fit seven windows in your desktop screen! You select the translations you want visible, and they all appear in the same window either side-by-side (Horizontal View) or stacked vertically!
Search and Find [screen] - our advanced search engine allows you to search words/phrases/book, chapter, verse references, Greek and Hebrew (including morphological searching)! Search one or more multiple books with combined results!
Strong's Greek/Hebrew Support [screen] - Strong's concordance with Greek and Hebrew dictionary linking every word in the Bible back to its original Greek/Hebrew root. Includes Greek/Hebrew spelling, pronunciation, and complete English definitions.
Book, Chapter, Verse Synchronization - synchronize the view of QuickVerse by book, chapter, or verse! Move in one window and QuickVerse will automatically scroll commentaries and Bible translations!
Daily Bible Reading Plans [screen] - choose from several preset Bible reading plans or create your own. Either way QuickVerse will track your progress!
Create Your Own Personal Notes within each reference book by attaching notes to a book, chapter, or verse. Notes can be included anytime you print a particular book, chapter, or verse.
Enhanced Copy/Print - advanced citation formatting with translation references and publisher information (including permission to quote) for copy and printed text!
Study Views - save multiple working environments including books, book views, and window positions to handle many study situations.
Interactive Study Workbooks - an all new interactive approach to digital workbook study! Read, answer, and print your results without ever leaving QuickVerse!
Download Library [screen] provides instant access to hundreds of today's most sought-after Bible translations and Christian references.
VerseFinder is the industry's fastest way to any book, chapter, verse combination across your entire library.
Highlighting Capabilities [screen] - Color code your favorite passages by topic or subject. Choose from up to eight colors to highlight passages in one easy customizable list!
Automatic Window Docking/Tabs allow windows to size automatically. Supports multiple book tabs in multiple windows for viewing more translations, commentaries, and definitions than ever before.
Bible Views - alternate Bible text viewing to support enhanced paragraph formatting or a single verse-per-line viewing.
Operating System:
Windows 98SE, Me, 2000, XP Home, or XP Pro 
Hardware:
Pentium III with 500 MHz (or equivalent), or higher
RAM:
128 MB or greater
Hard Disk:
200 MB of free space
Peripherals:
CD-ROM or DVD-ROM
Available to integrate into Quickverse or as an add-on to Bible Illustrator. Please indicate your preference when ordering. If ordering the add-on, the price will be reduced upon receipt of your order but will not be shown on your program-generated receipt. Prices are as follows:
Sermon Builder: $49.95 (list: $69.95)
Add-on to Bible Illustrator: $21.95 (list: $29.95)