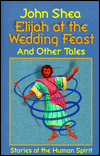 ELIJAH AT THE WEDDING FEAST AND OTHER TALES by John Shea ($12.95)
10.95
ACTA: 0-87946-207-8

Synopsis
Storyteller and author John Shea has done it again! In this new collection of 23 favorite stories Shea draws from diverse religious traditions, spiritual legends and everyday experiences. Each story touches the core of the human spirit and opens the heart and mind to powerful spiritual insights. In his though-provoking commentary after each story, Shea provides a practical, personal application. An excellent gift book . . . attractive, hope-filled and sure to please both John Shea fans and people who have not yet delighted in his wisdom and insight.


From the Publisher
About the Author
John Shea is a research professor at the Institute of Pastoral Studies at Loyola University of Chicago and the Advocate Healthcare Senior Scholar in Residence at the Park Ridge Center for the study of Health, Faith and Ethics. He is the author of a dozen books, numerous audio cassettes and video tape programs.