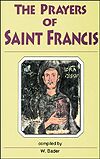 PRAYERS OF SAINT FRANCIS, THE ($7.95)
6.95
NCP: 1-56548-066-X

Wolfgang Bader offers a fresh translation of 55 of St. Francis of Assisi's most beautiful prayers, including "Poverty: My Only Riches", "Like the Tax Collector in the Temple", "Greatness of the Little Ones", "Canticle of the Creatures", and "Dear Brother Fire".

This graceful translation of a spiritual classic belongs in the devotional library of anyone who seeks to deepen his or her own prayer life. Editorial commentaries place each prayer in its historical context, allowing the reader to experience it from the saint's own perspective.