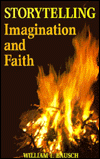 STORYTELLING: IMAGINATION AND FAITH by William Bausch +
16.95
TW: 0-89622-199-7

Fr. Bausch taps a treasured well-spring of stories from the masters of antiquity to anonymous authors of more recent days, and does so within religious and secular traditions. Celebrates the power of stories for passing on truths and myths from one generation to the next. 232 pp. By William J. Bausch.

This item does not qualify for free shipping. However, normal shipping applies and there is never a surcharge.