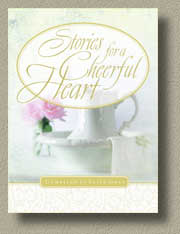 STORIES FOR A CHEERFUL HEART (Compiled by Alice Gray)+
12.99
MULT: 1-57673-683-0

Millions of readers have discovered the inspirational and poignant Stories for the Heart series. Here is a volume of best-loved selections from the Stories for the Heart series that celebrates the sunny side of life. Stories for a Cheerful Heart will uplift readers with fun, upbeat, and heartwarming stories. A timely affirmation of life and reminder of the gifts and joyfulness it contains, this delightful story collection will leave every reader with a smile, and thankful for the way God designed our world. Sure to become a favorite to read and share!

This item does not qualify for free shipping. However, normal shipping applies and there is never a surcharge.