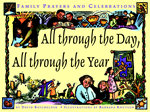 ALL THROUGH THE DAY, ALL THROUGH THE YEAR by David B. Batchelder ($14.99)+
12.95
AUG: 0-8066-4039-1

A through-the-day, through-the-year collection of rituals, celebrations, and prayers to help families build a rich spiritual legacy together. Here's a book that offers families a framework of prayer-and tradition-building ideas that provides order, joy, and meaning to their days and years—while it helps create a rich spiritual legacy.

A brief introduction explains the beauty of, and need for, building prayer and faith rituals into family life, the remainder focuses on, and is filled with, illustrated suggestions, rituals, patterns, and prayers for observing special times during the day and year: at mealtime, bedtime, birthdays, church-year seasons, holidays—and other occasions for celebration.

The rituals and prayers offer experiences in creativity and fun as well as promote family togetherness. A helpful table of contents, plus section and page headers, make finding and choosing the right prayer or ritual- starter easy.

This item does not qualify for free shipping. However, normal shipping applies and there is never a surcharge.