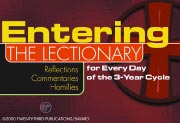 ENTERING THE LECTIONARY ($129.95)
119.95 89.95 On Sale!
TW: 1-58595-114-5

THIS CD-ROM MAY STILL BE USED WITH A WINDOWS 7/8 PROFESSIONAL COMPUTER AND THE WINDOWS VIRTUAL MACHINE! (I STILL USE IT MYSELF!!)

Compiled from 12 different authorís writings, these 2500 reflections, homilies, commentaries, and meditations are offered to aid the user as a study and prayer resource. Every Sunday of the 3-year Liturgical cycle has 7 or more selections on that Sundayís gospel or Scripture reading. There are over 30 feast and occasions for every day of the 3-year cycle. This CD is user-friendly while it allows the user to edit and revise the stories to fit their own needs, then print them out.