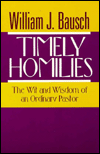 TIMELY HOMILIES by William Bausch +
9.95
TW: 0-89622-426-0

Timely Homilies goes beyond spiritual reading and provides preachers with a model for their preaching ministry, both for the ordinary Sunday homily based on the lectionary Gospel text and for occasions such as weddings and funerals. Suggestions are provided on preparing homilies and how preachers might use this book to improve their proclamation of the Word. Lectionary references are provided in the appendix. By William J. Bausch. 176 pp. Excellent resource, highly recommended.

This item does not qualify for free shipping. However, normal shipping applies and there is never a surcharge.