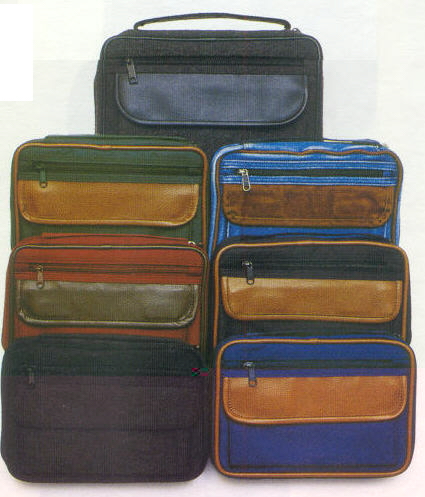 ALL-IN-ONE ORGANIZER BIBLE COVERS
24.95
RW: 990-111

PLEASE NOTE: Not all colors are available in all sizes and stock is limited to what is on hand since these are no longer available. If the color and size you desire is not available, we will contact you about alternate choices.

With an abundance of pockets, this organizer case is an extremely practical and convenient Bible cover with numerous places to hold almost anything from note pads and study materials to pens, pencils and rulers. Features:
long wearing, contemporary twill, denim or wool fabrics;
complete interior finishing to prevent the Bible from sticking;
fold-out holder for notepad and pen;
double stitching around the zipper and on the handle for added reinforcement; and,
lies completely flat when open.
Available in either medium, large or extra large sizes which accommodate the following sizes of books:
medium: up to 9 x 6 x 1.5;
large: up to 9.75 x 7 x 1.75; and,
extra large: up to 11 x 7.75 x 1.75.
Also available in your choice of either charcoal, black rose, denim, black with leather look trim, burgundy with leather look trim, forest green with leather look trim or navy with leather look trim. Please indicate your preferences when ordering and provide your bible's length, height and width in the text box provided so that we can be sure to send you the correct size.