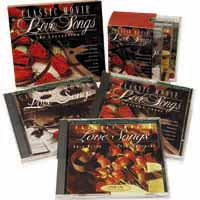 CLASSIC MOVIE LOVE SONG COLLECTION (3CD'S)$48.95)
36.95
GH: 5064

Green Hill's all time best selling series in now available in a gorgeous gift box package. Classic Movie Love Songs, The Collection contains three full length instrumental recording featuring love songs and themes from blockbuster movies performed on solo piano by Stan Whitmire and David Hamilton. Over 30 songs total and 2 hours of music!

Includes:
The Wind Beneath My Wings
Everything I Do-I Do It For You
I Will Always Love You
Unchained Melody
When I Fall In Love
Can You Read My Mind
The Heart Asks for Pleasure First
It Might Be You
Up Where We Belong The Rose
Because You Loved Me (Up Close and Personal)
Colors of the Wind (Pocahontas)
Change the World (Phenomenon)
Why Does it Hurt So Bad (Waiting to Exhale)
The Feather Theme (Forrest Gump)
Once in a Lifetime (Only You)
Run to You (The BodyGuard)
Now and Forever (The Getaway)
Doe Eyes (The Bridges of Madison County)
Have You Ever Really Loved a Woman (Don Juan Demarco)
Someday (The Hunchback of Notre Dame)
The Glory of Love (The Karate Kid Part II)
and more!!!