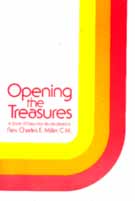 OPENING THE TREASURES by Rev. Charles E. Miller, C.M. ($19.95)
16.95
ALBA: 0-8189-0424-0


The Second Vatican Council declared that "the treasures of the Bible are to be opened up more lavishly so that richer fare may be provided for the faithful at the table of God's Word. In this way a more representative portion of the Holy Scriptures will be read to the people over a set cycle of years." This book, Opening the Treasures, is meant to be a help to those preachers who are devoted to procaliming the Word of God to the faithful who participate in weekday Masses. It can also assist all those who want to meditate and reflect on the significance of the Scriptures as found in the daily lectionary. It is not meant to be a scholarly study of the text but a pastoral and devotional application of God's Word to the present day. Its simplicity and clarity recommend it to all.

Charles E. Miller, C.M., a Vincentian priest who holds the Wilfred L. and Mary Jane Von Der Ahe Chair of Homiletics and Liturgy at St. John's Seminary in the Archdiocese of Los Angeles, served as rector of the Seminary for three terms from 1978 to 1987. In 1988 Cardinal Roger Mahony conferred on him the Laudatus award "for excellence in the promotion of the liturgical life of the parishes and people of the Archdiocese of Los Angeles." Among his many books (all published by Alba House) are: Opening the Treasures (see Priests, Religious & Homiletics Features page); &nbspTogether in Prayer: Learning to Love the Liturgy of the Hours; Ordained to Preach; As Rain That Falls: Homiletic Reflections for the Weekdays of Advent and Lent; and &nbspMother and Disciple.
Reviews
"Fr. Miller... offers these meditations on the daily Scripture readings of the lectionary 'to priests as a help in preparing daily homilies and as a source of reflection for others who wish to meditate on the Scripture readings as found in the lectionary." --Theology Digest

"A good parish resource and one that will help in priestly ministry and spirituality." -- Pastoral Life

"... each pages breathes freshness and optimism." --The Bible Today