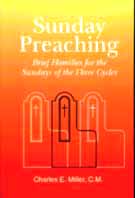 SUNDAY PREACHING By Charles E. Miller, CM *
18.95
ALBA: 0-8189-0782-7


"Since brevity is the soul of wit, and tediousness the limbs and outward flourishes, I will be brief." With these words from Hamlet, Father Miller introduces his latest book of reflections on the liturgical readings for Sundays and Holy Days of Cycles "A," "B," and "C." These short meditations -- each sermon is complete on facing pages -- are intended to serve as a spark to ignite the Spirit who will guide the prayerful and studious homilist in this most important service to his people. While recognizing that in themselves these brief reflections are not adequate to the task at hand, Father Miller has nonetheless taken his cue from St. Vincent de Paul who wrote: "I add my prayers to the warnings given you about going on too long in your sermons. We see from experience that such wordiness hinders their good effect and serves only to try the patience of the listeners, whereas a short, moving talk is often followed by good results."
 

Charles E. Miller, C.M., a Vincentian priest who holds the Wilfred L. and Mary Jane Von Der Ahe Chair of Homiletics and Liturgy at St. John's Seminary in the Archdiocese of Los Angeles, served as rector of the Seminary for three terms from 1978 to 1987. In 1988 Cardinal Roger Mahony conferred on him the Laudatus award "for excellence in the promotion of the liturgical life of the parishes and people of the Archdiocese of Los Angeles." Among his many books (all published by Alba House) are:  Opening the Treasures (see Priests, Religious & Homiletics Features page); &nbspTogether in Prayer: Learning to Love the Liturgy of the Hours;  Ordained to Preach;  As Rain That Falls: Homiletic Reflections for the Weekdays of Advent and Lent; and &nbspMother and Disciple.
Reviews
"Preaching Tool: Latest book from homiletics and liturgy professor, Fr. Charles E. Miller, C.M., puts emphasis on the importance of brevity for effective preaching (citing St. Vincent de Paul, et al.), Title: Sunday Preaching (Brief Homilies for the Sundays of the Three Cycles). Noted, however, by the author: Each reflection is meant to be a starting point for the priest or deacon, and is not intended to be 'preached' as written; each 'homily' is about 3 to 7 minutes in 'length' if read aloud... whereas an effective Sunday Homily 'should be between 7 and 10 minutes.' Covers the 3 Cycles (A, B and C) plus Solemnities, Feasts, and Special Observances (Mother's Day, Thanksgiving, 4th of July, Labor Day, etc.). With author's Introduction.

(Purchase of this title helps you qualify for the free shipping option if it is being offered at the time of your order.)