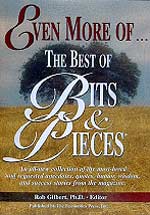 BEST OF BITS AND PIECES, Volume 3 +
29.95
EP: 0-910187-12-6



Bits & Pieces, the magazine that motivates the world, has guided millions with its commonsense advice, clever wit, and simple truths. Over the years thousands of people have requested that Bits & Pieces be put into hardbound form, inspiring our first two books, The Best of Bits & Pieces and More of the Best of Bits & Pieces.

Now an ALL-NEW collection of thoughts, anecdotes, stories, quotes, proverbs, one-liners, and gentle humor to inspire, motivate, delight, and celebrate success, Even More of ... The Best of Bits & Pieces.



You'll own a permanent reference to turn to for advise and inspiration.
It's the motivational masterpiece that inspires people all over the globe - ready for speeches, reports, memos and letters - anything you write.
There are hundreds and hundreds of timeless, universal, and real-life stories to activate, persuade, and inspire you and those around you to success.
"We referred to Bits & Pieces often while compiling Chicken Soup for the SoulŪ. If you want truths that can lead to life-changing insight, read Bits & Pieces."
- Jack Canfield, coauthor of Chicken Soup for the SoulŪ
You'll love this wonderful book - with over 200 pages filled with real-life stories you'll want to share again and again with family, friends, and associates. You'll find each item carefully and conveniently categorized, so you can find any subject in just a few seconds. That's important when you're trying to find that unique quote, powerful story, or distinctive idea to fine tune a presentation, speech, sermon, or letter.
A set of the three "Best of Bits and Pieces" is also available at the special price of $79.95!!
This item does not qualify for free shipping. However, normal shipping applies and there is never a surcharge.