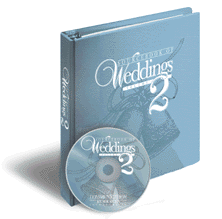 SOURCEBOOK OF WEDDINGS 2 (with CD-ROM)($49.95)+
44.95
CR: WEDC2

This great collection will assist you from your first meeting with the couple all the way through the ceremony and to your continuing contact with them in their first year of marriage. You not only find 40 wedding Homilies — a real help since these are often hard to prepare — but also pages and pages of choices for each part of the wedding ceremony.

You have a wide range of music suggestions for the Preliminary Music, the Prelude, Processional, Special Music and Recessional.

There are numerous options for the Invocation, the Greeting, the Welcome and Introduction, the Questions of the Bride and Groom and of the Parents, the Minister's Charge, the Vows, the Ring Exchange, the Wedding Prayer, the Declaration of marriage, the Benediction and the Introduction of the Couple.

You'll have a sheaf of Ceremonies of various types. For example, Blended family Ceremony, Vow Renewals, Outdoor weddings, Services including a Love Feast or Holy Communion.

There is a section of General Readings and another for Special Rituals, such as the Unity Candle. You'll also find Administrative Forms for setting up the wedding, guidance on running the rehearsal and a series of model Pastoral Letters for follow-up afterward.

In short, the SourceBook of Weddings 2 is a complete resource for planning and performing a wedding ceremony.

Also available as a set with Sourcebook of Weddings 1 (with your choice of IBM or MAC disk, or we can burn the info onto a CD-ROM for Windows for you) for $89.95 (list: $99.90)(Save 10%!!). Please indicate your preference on the order form. If ordering both volumes, the price will be adjusted upon receipt of your order, but will not be reflected on your program-generated receipt.

This item does not qualify for free shipping. However, normal shipping applies and there are no surcharges.