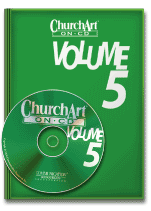 CHURCH ART ON CD (Volumes 4 & 5)($49.95)
44.95

ChurchArt on CD Volume 5 gives you nearly 1,400 images designed specifically for the church. Every image from the 2001 and 2000 issues of ChurchArt Pro, our premium clip-art subscription service, is contained on one handy CD. You get all 1,400 images in crisp black and white, and the majority of them are also in full color. We've even included every image in Web-ready GIF format, perfect for your church's Web site. Includes an index booklet for quick selection and is great art at a great price.We guarantee you'll find art for every occasion.

Also available are ChurchArt on CD Volume 4 (from 1998/1999 respectively) with an equal number of images. Volume 4 will no longer be available once the current stock is depleted. Prices are as follows:
Church Art on CD Volume 5: $44.95 (list: $49.95)(CAD5)
Church Art on CD Volume 4: $44.95 (list: $49.95)(CAD89)
both volumes: $84.95 (list: $99.90)
Please specify your preference when ordering. If ordering the set of both volumes, the price will be adjusted upon receipt of your order but will not be reflected on your program-generated receipt.