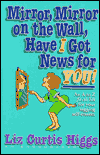 MIRROR, MIRROR ON THE WALL by Liz Curtis Higgs ($9.99)+
8.95
TNP: 0-7852

Liz Curtis Higgs takes women on a joy-filled journey in search of a "faith" lift for their sagging self-esteem. Memorable stories help women discover their timeless beauty and immeasurable worth in the mirror of God's Word.

Only the book is available and does not qualify for free shipping. However, normal shipping applies and there is never a surcharge.