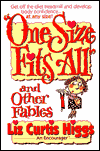 ONE SIZE FITS ALL by Liz Curtis Higgs ($12.99)+
11.95
TNP: 0-8407-6333-6

Liz Higgs looks at the subject of weight control with humor and humility. The book takes a humorous approach to self-confidence, emphasizing a positive outlook on life rather than a gloomy one, tinged by the lack of a perfect body. A "big, beautiful woman in a narrow nervous world, " Higgs' infectious joy for life inspires women everywhere to begin to truly appreciate themselves.

Available in paperback, video or book and video set. The video is $15.95 [list: $17.99] and the book and video set is $25.95 [list: $31.90]. Please specify your preference on your order form. If ordering the video or the set, we will adjust the price upon receipt of your order but it will not be reflected on the program-generated receipt you receive when you place your order.

This item does not qualify for free shipping. However, normal shipping applies and there is never a surcharge.