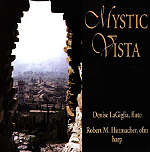 MYSTIC VISTA (Instrumental Music for Flute and Harp by Hutmacher & LaGiglia)($16.95)
14.95
GIA: 435

The harp and the flute are among the oldest instruments in the world. These two instruments have been depicted in paintings and sculptures from as early as the beginnings of the Cycladic civilization (2800-2300 BC) in what is now Turkey and Greece. Paired together, the harp and flute can produce an ethereal sound that calms, uplifts, soothes, and delights the listener. Their musicality has been captured by the great composers of the baroque and classical periods all the way to moderns like Shostakovitch and Corigliano.

Mystic Vista is a collection of songs Robert Hutmacher has written over the past eight years for musicals, plays, and recitals, together with five short pieces from the French repertoire. He and Denise LaGiglia have performed together for years, and this recording brings their musicianship to a larger audience. The title, cover photo, and much of the music flows from Bob's life, research, and prayer in his "second home" - Assisi, Italy. In addition to that unique Umbrian flavor heard in his previous recordings, there are the usual Hutmacher surprises. Mystic Vista conveys a wide variety of holy, emotional, and artistic moments, sure to captivate the listener. Duets, solos, and even improvisations display talent and professionalism; the diversity of style will assure one is connected with the aural beauty of these timeless instruments.

CONTENTS:
From Clare of Assisi:

Dance in C;
Dance in A Minor;
Air in D;
San Damiano;
Death of Clare

Musikalische Lob: 10 Pieces for flute and keyboards:
Tears for Assisi;
From Songs of Mother Earth:

Prayer of Hospitality;
Just for a Moment

Cinq Pieces Faciles pour Flute et Harpe by O. Gartenlaub:

Secret;
Reve;
Jeu;
Valse;
Choral

Fantasia in Cielo;
Improvisation on Amazing Grace;
From The Dragon and the Moon:

Air in A Minor;
Love Theme;
Dance in G;
Lullaby;
Bourre
For eight hundred years now, the "Canticle of the Sun" of St. Francis has been servicing the Church in some form or other, such as "All Creatures of Our God and King" with the tune LASST UNS ERFREUEN. Lying square in this tradition of music making is another Franciscan friar: Robert Hutmacher, composer, performer, preacher, minister of music. His music has been published by GIA since 1978, including three recordings of Franciscan choral and instrumental music. Whether in spite of, or because of, his residences at various times in suburb, in the inner city, or during travels abroad, his music reflects the mysticism of distant Assisi and Umbria with an eye turned to the needs of today's Church.

His compositions boast high craft and skill, two traits that were no doubt instilled in him by his studies with David Clark Isele at Notre Dame and Daniel Truman Fletcher at Memphis State University. Always appropriate to the liturgy and its demands, his approach to liturgical music composition reflects the principles he learned in his graduate studies at Notre Dame, where he was awarded a Masters in Liturgy degree in 1981.

In the early nineties he spent time translating and setting the oldest hymns and offices of Clare and Francis, a labor that entailed three months of research in the libraries of Assisi. He also composed the score for a play about Clare of Assisi, which was filmed and distributed by Oblate Media for the 800th anniversary of Clare in 1993.

Robert Hutmacher amplifies another prayer of St. Francis, "Make me a an instrument of your peace." His musical output and his scholarly endeavors have made him a cheerful and effective instrument of God's-not only in Umbria, but in the American church as well.

Available as a compact disc or cassette [$9.95 ($10.95)]. Please indicate your preference when ordering. If ordering the cassette, the price will be adjusted upon receipt of your order but will not be shown on your program-generated receipt.