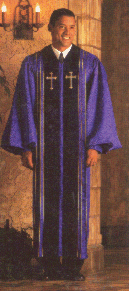 BISHOP H-54 DAMASCENE PULPIT ROBE (Purple)(with free ground shipping)
529.90 499.95 On Sale!

Make a strong statement of faith in this symbol-laden purple Damascene Bishop H-54 Pulpit Robe. The deep purple velvet panels are accentuated by triple rows of gold metallic piping and twin 5" Latin crosses. Right pocket slit.

Murphy brings added depth of meaning to their newest collection of pulpit robes with the first fabric designed expressly for pulpit robe use. Damascene, an original fabric designed by and available exclusively from Murphy, enables you to make a visual statement of faith even before the sermon begins. Woven throughout with beloved Christian symbols, Damascene's pattern enriches the eye from all angles. And the robes tailored in this exciting new fabric will stand the test of time because all of the fine tailoring features you have come to expect from Murphy are included at no extra charge. Hand-sewn velvet panels, lined bell sleeves with deep cuffs, a guaranteed zipper closure, and a right pocket slit will ensure lasting beauty and convenience for years to come.

All the items in the Damascene Collection are stocked for 24-hour shipping from factory receipt of your order in the sizes listed on the men's sizing chart.

Custom robes of this style are available with delivery in 6 to 8 weeks in your choice of sizes, etc. for $609.95 (list: $634)(MR185). Please contact us for more information via our toll free number at 877-432-6745.

Have you considered a Garment Bag for your new robe to keep it dust-free and for travel?

Free ground shipping offer applies to orders shipped within the continental US.

INTERNATIONAL ORDERS, PLEASE NOTE: There is an additional charge of $15 for each international order processed over and above the actual shipping charges since these robes will have to be shipped to our store before shipping overseas and will not be sent directly from Murphy. Additional items in your order will incur additional charges above the minimum for the additional weight.