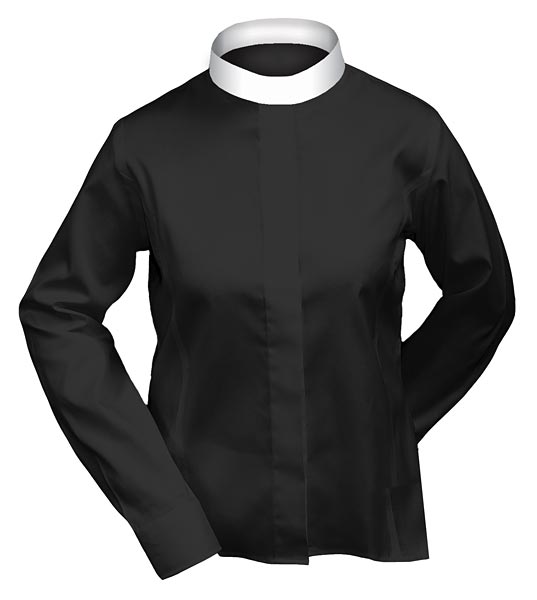 CLERGY BLOUSES (Long Sleeve)(Neckband)(Wrinkle-free Cotton)(with free shipping for 3 or more) from Friar Tuck
48.95



Introducing the Lydia Collection by Augsburg Fortress™ — a new clergy apparel line exclusively for women. This new line includes Long-Sleeve Neckband Blouses in pure 100% cotton that's wrinkle-free! You can get that "just ironed" look and feel right out of the dryer. Plus, you'll love the comfort of these classic fit blouses made with a fabric that breathes.

Features include:
Pure 100% cotton that's wrinkle-free!
Updated classic fit
Placket covers front buttons
Straight bottom with slits in side seams at hem
Double-stitched seams for added durability
Machine wash-and-wear convenience
Superior, high-quality construction
Color-fast and durable
Please note that PONTIFF COLLARS (see below for sizes and prices) or washable CLERICAL COLLARS and COLLAR BUTTONS do not come with the blouse and are sold separately at additional cost (2 for $5). Clericool Collars are also available ($12.95) in either 1.25 inch (Clericool II) or 1½ inch (Clericool III) in half sizes from 14 to 22. You may order any of these items separately (please click on the links provided above) or they may be ordered when you order your blouse. If ordering them with your blouse, the prices will be added to your order upon our receipt and will not be reflected on your program-generated receipt.
Pontiff Collar sizes and prices are as follows:
Pontiff I (1 inch front, 1 inch back)($12.95 up to size 18½, $15.95 from size 19 to 20½)(all sizes except 17 and 18);
Pontiff II (1 1/4 inch front, 1 inch back)($12.95 up to size 18½, $15.95 from size 19 to 21)(only available in sizes 14, 14½, 15, 17½, 19, 20, 20½ and 21)
Pontiff III (1½ inch front, 1 1/4 inch back)($12.95 up to size 18½, $15.95 from size 19 to 21)(only available in 14, 14½, 20, 20½ and 21); and,
Pontiff IV (1¾ inch front & 1½ inch back)($12.95 up to size 18½, $15.95 from size 19 to 20)(only available in 15, 19½ and 20)
PLEASE NOTE THAT ACCORDING TO INDUSTRY STANDARDS, ALL APPAREL IS NON-RETURNABLE SO PLEASE ORDER CAREFULLY!!!
FREE SHIPPING WHEN YOU PURCHASE THREE OR MORE SHIRTS OR BLOUSES!!!
Orders of three (3) or more shirts or blouses will qualify for free second day shipping within the continental US.
All shirts must be shipped at one time. If expedited shipment is desired, the free shipping offer does not apply. If you wish to take advantage of this offer, please be aware that nothing is charged to your credit card when you place your order and that, although your shopping cart will show a shipping charge when you place your order, this charge will be adjusted, or removed based on the terms noted above, before your card is charged (which is when we ship your order). We would also recommend that you NOT use PayPal as a form of payment since your credit card will be charged for the full amount of your order, including the shipping charge, when you place it. Your understanding is appreciated.
As a family owned business since 1998, we try to provide what the big guys cannot: personal service. You can always contact us and speak to a real person (or as real as we ever get!) via our toll-free number at 877-432-6745 or internationally at 732-714-7796 with any questions. Or you may email us at deaconsil@comcast.net. We sincerely thank you for your patronage.