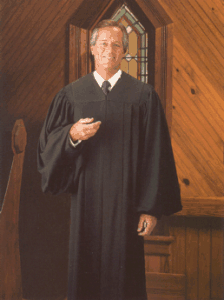 GENEVA S-6 PULPIT ROBE (Black) for Men and Women (with free shipping)
239.90 215.95 On Sale!

The Geneva S-6 pulpit robe is stocked in more than 100 sizes to fit most men and women pastors instantly! Tailored in black Wonder Crepe, the Geneva features lined, bell-shaped sleeves with deep cuffs, balanced machine fluting over the shoulders and across the back, and a 4-ply yoke construction for lasting beauty and shape retention. A convenient right pocket slit is provided on the men's version, and a full right pocket on women's.

S-Series pulpit robes are kept in stock in over 100 different sizes. They are stocked to fit men with chest measurements of 38" to 52", sleeve lengths 32" to 36", and heights of 5'6" to 6'4", with a floor clearance of 8". Selected styles are also stocked for women with chest measurement of 36" to 48", sleeve lengths 29" to 33", and heights of 5'6" and up, with a floor clearance of 6" to 8".

Please send the following information when ordering:
Height (with shoes);
Chest (suit size) or bust measurements; and,
Sleeve length (if unknown, use this method: with hand in front of mouth and elbow extended outward even with shoulder, measure from the center of the back at the base of the neck around the elbow to the wrist. If necessary, increase this measurement to the next full inch.)
We have size 42-56-34 (for height 5' 10" to 6') of this style for men in stock and ready to ship the same day as you place your rder. Other sizes are available directly from Murphy Robes for shipment the following day.
Custom robes of this style are available with delivery in 6 to 8 weeks in your choice of sizes, etc. for $339.95 (list: $352)(MR435). Please contact us for more information via our toll free number at 877-432-6745.
Have you considered a Garment Bag for your new robe to keep it dust-free and for travel?
Free shipping offer applies to orders shipped within the continental US.
INTERNATIONAL ORDERS, PLEASE NOTE: There is an additional charge of $15 for each international order processed over and above the actual shipping charges since these robes will have to be shipped to our store before shipping overseas and will not be sent directly from Murphy. Additional items in your order may incur additional charges above the minimum for the additional weight.