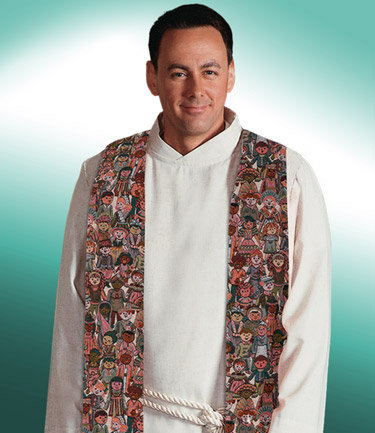 ALB H-43 (Flax) from Murphy (with free shipping)
191.95 179.95 On Sale!
AH43

Murphy's Alb H-43 is tailored in a blend of polyester, rayon, and flax, and features a crossover front with Velcro and snap closures, cuffed coat sleeves, tapered collar, a full pocket on the left and a pocket slit on the right.

An ecru 4-yard knotted Cincture Cord is included at no extra charge. (Additional cords are available as a liturgical set of red, purple, white, and moss green [$89.95 ($104)], or individually [$23.95 ($26)] in the above colors plus bright gold, black, ecru, maroon and royal blue.). Or order all eight (except ecru) for $169.95 (list: $208).

This alb is stocked in 20 sizes to fit most men and is ready for shipment within 24 hours of our receipt of your order. It is backed by the Murphy Qwick-Ship Guarantee of Satisfaction. To find your size, see the Men's H Size Chart. To measure sleeve length, bend the arm at the elbow and hold arm out in front, parallel to the floor as if looking at a watch. Then, measure from the center back of the neck at the base of the neck, over the top of the shoulder, around the extended elbow, and down to the wristbone. Record this sleeve size on the Order Form, rounded up to the nearest full inch. Do not round down.

Custom albs of this style are available with delivery in 6 to 8 weeks in your choice of sizes, etc. for $291.95 (list: $232)(MR170). Please contact us for more information via our toll free number at 877-432-6745.

Free ground shipping offer applies only to orders shipped within the continental US.

The Qwick-Ship® Guarantee of Satisfaction means that if you are not satisfied with any Qwick-Ship item you purchase, you may return it (unused and unworn) for exchange or refund within 10 days of purchase.


Have you considered a Garment Bag or extra-long contour Hanger for your new robe or alb?