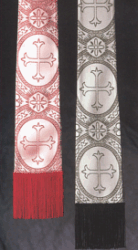 PULPIT STOLE in EMINENCE BROCADE (Red Tone)(with free shipping) from Murphy
84.95
MURPHY: EBPS

Premium quality Eminence Brocade is tailored into traditional pulpit stoles with special significance. These 90" stoles are fringed as shown and lined in Satin for lasting beauty. Only available in red tone (shown left).

Free ground shipping offer applies only to orders shipped within the continental US.