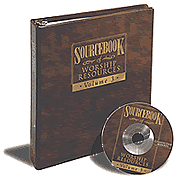 SOURCEBOOK OF WORSHIP RESOURCES (Volume 3)($49.95)+
44.95
CR: SWR3

Whether you have traditional, blended or contemporary services, you want words to help your people express their real needs to God — that's why we're pleased to introduce the third volume of this great SourceBook series — SourceBook of Worship Resources, Volume 3.

   It will assist you in preparing your worship services and contains an abundance of worship material for use throughout the Christian year. You'll find Calls to Worship, Invocations, Prayers of Confession, General Congregational Prayers, Pastoral Prayers, Benedictions and additional liturgies for special services. There's even a collection of appropriate quotes to print in your bulletin for moments of meditation.

   Enhance your worship services with fresh, thoughtful and meaningful elements available at your fingertips in this superb collection.


Also available as a set with the Sourcebook of Worship Resources Volume 2 for $84.95 (list: $99.90). Please indicate your preference when ordering. If ordering the set, the price will be adjusted upon receipt of your order, but will not be reflected on your program-generated receipt.

This item does not qualify for free shipping. However, normal shipping applies and there are no surcharges.